Abergavenny road closed to give children safe place to play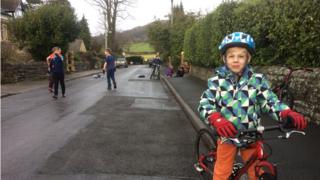 "The best thing is that you get to have fun," says Edward, seven, out on his bike.
He is playing on a normally busy Abergavenny road, the first to be closed by a group of parents in Wales who want to get more children outside.
In Wales 26% of four to five-year-old children are overweight or obese, compared to 22% in England.
Paediatrician Dr Lizz Bragg said children should be outside, not inside with tablets or phones.
"We are extremely concerned and we think something needs to be done about it sooner rather than later," said Dr Bragg, who works at Noah's Ark Children's Hospital of Wales in Cardiff.
"Why are children under two being offered tablets and phones? Nobody under two needs to watch television either.
"But more people are giving these things because it's an electronic babysitter."
Obesity in Wales is worse than in any other UK nation. The 2016-17 National Survey of Wales found 59% of adults were overweight, with 23% classed as obese.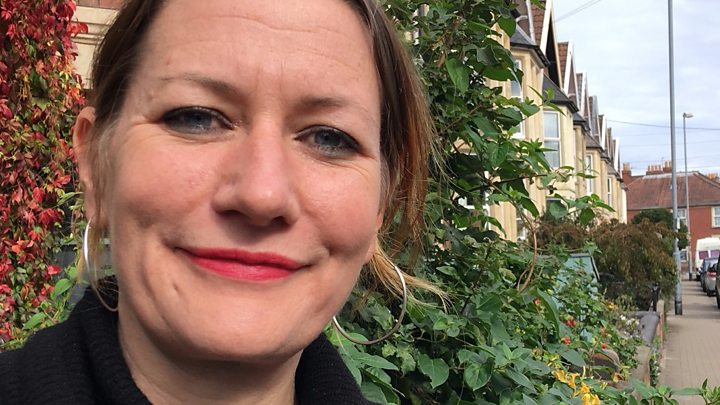 Keen to ensure their children are as active as possible, Abergavenny mum Chloe Charrington organised a monthly street closure on Windsor Road as part of the Playing Out campaign - the first street in Wales to do so.
She said: "I heard about Playing Out through a friend of mine, who had been helping to organise them in Worthing in Sussex.
"She told me about the movement, so I looked it up and, after reading everything on the Playing Out website I decided Windsor Road was the perfect street for it.
"I wanted to encourage more children to play together outside and this seemed like a good way to do it. I also think that a sense of community is very important for the children, and the adults. A good community can offer support, friendship, and make a neighbourhood a lovely place to live."
Playing Out was founded in 2009 by Bristol mums Alice Ferguson and Amy Rose from Bristol who were frustrated at a lack of parks and green spaces for their children to play in.
They knew they could apply to the local authority to close a road for a street party, so decided to do the same thing to allow children to play.
Playing Out now has more than 500 streets in 49 local authorities around the UK signed up.
Playing Out said: "We aim to keep growing this grassroots movement until it is completely normal and acceptable for children to play out wherever they live."