Norovirus closes Tongwynlais Primary School in Cardiff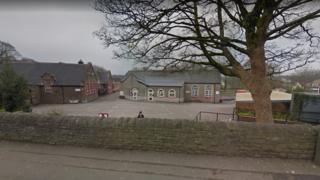 A school in Cardiff has closed after 30 pupils fell ill with Norovirus.
Tongwynlais Primary School made the decision after advice from Cardiff council but no other schools have been affected.
The school was deep-cleaned over the weekend after pupils got ill on Friday.
Head teacher Sally Phillips said she was "deeply sorry for the inconvenience" but the school was "left with no choice".
A spokesman from Cardiff council said: "The school was deep cleaned on Friday night, but as a precaution and pending advice from Public Health Wales the decision was taken by the chair of governors to close the school today."
A Public Health Wales spokeswoman advised any pupils or staff with symptoms of Norovirus to stay out of school for 48 hours after the symptoms end, and to seek advice from their GP or NHS Direct if they last longer than 48 hours.
The spokeswoman also stressed the importance of washing thoroughly and avoiding sharing towels to limit the spread of the infection at home.