Celtic Manor Hotel was 'worst Christmas experience ever'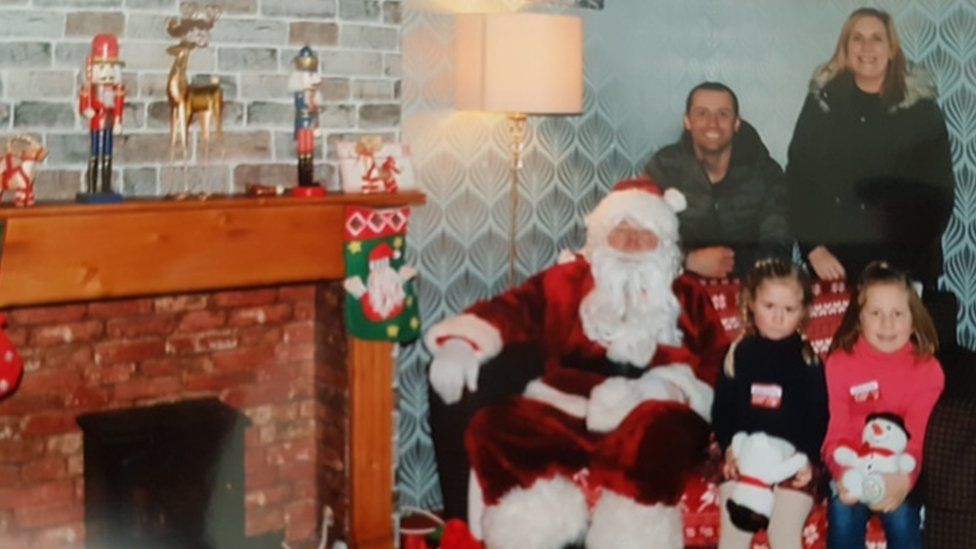 A five-star hotel has apologised after dozens of unimpressed parents complained about its Christmas grotto.
Sabrina Rees labelled the Celtic Manor Resort's Christmas Kingdom "one of the worst Christmas experiences ever" in a Facebook post, prompting many others to agree with her.
The Newport hotel said it was disappointed the kingdom had not been "a truly magical experience" for all.
It added it had taken steps to improve the experience.
Ms Rees, from Blackwood, Caerphilly, said in a post which was shared more than 1,200 times: "It is literally a conveyor belt of cash to them.
"The first 10 minutes of the visit is basically a promo video for the hotel.
"You are then hurried through two tiny rooms to make a shoddy gingerbread man with glue spreaders and icing that doesn't stick and where there isn't enough room for all kids to sit down.
"No interaction from staff the entire time we were there and this was supposed to be a magical wonderland filled with fun."
Ms Rees called some of the decorations scruffy and dirty, adding they had "definitely seen better days" and criticised the quality of a photograph taken with Santa.
She said the "final straw" came when her daughter was visiting Santa and was clearly able to hear a different Santa in a neighbouring room talking to another child.
"My eight-year-old picked up on this straight away and started asking questions which will now lead to her now not believing in Santa," she added.
Other people agreed with Ms Rees's account.
Lara Blackford wrote: "We came back this evening this is the 3rd year of going and by far the worst ever!!!!!! No Xmas spirit no magical experience, we was greeted by "an elf" who looked no older than 13..."
However, some defended the hotel and said they had found the experience enjoyable.
Shelly Escott-James said: "I took my boy last week on a Tuesday lunch time. The staff couldn't do enough for us. Everyone made a fuss of him and the whole experience lasted about an hour. I recommended it to all of my friends."
In a statement, the hotel said: "At Celtic Manor, we aim to make the Christmas Kingdom a truly magical experience for all the family. We are disappointed to hear that some of our guests do not feel that this was the experience they received this year.
"The event has been running at the resort since 2012 and has always been hugely popular, with many families returning year after year to enjoy Santa's Grotto, ice skating and the many other festive activities at the resort.
"However, we take all customer feedback on board and are always looking for ways to build on our guest experience. We have already taken steps to address the issues raised and improve the experience for the remainder of the festive period."
Earlier this year a herd of reindeer at the attraction were removed from the site after one visitor complained to the RSPCA and Newport council about their welfare.
At the time, the hotel said changes to the infrastructure of other parts of the Christmas Kingdom had had an "unforeseen impact on this year's reindeer enclosure".
The reindeer were returned to their owner.
Related Internet Links
The BBC is not responsible for the content of external sites.