Cardiff water tower 50ft high mural unveiled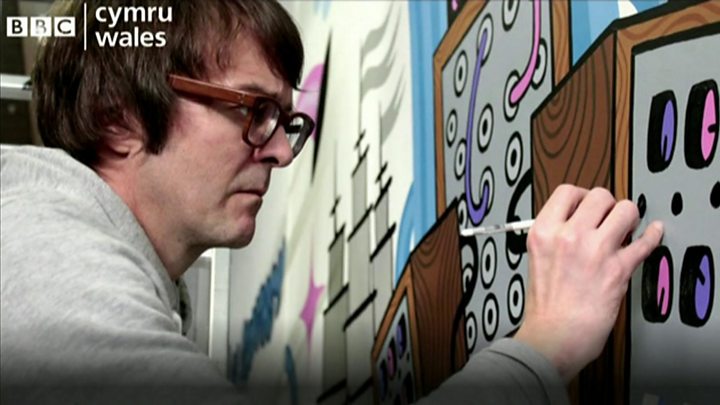 A giant mural illustrated by Super Furry Animals' album artist is being unveiled in Cardiff.
The 50ft (15m) high design is currently taking shape on the Grade II-listed water tower outside the city's central station.
The mural, created by Pete Fowler, aims to celebrate "the mythical past" and mark the end of 2017 Wales' Year of Legends.
It is being unveiled by Literature Wales with conservation body Cadw.
Mr Fowler said it was inspired by The Mabinogion - the ancient oral stories of Wales which were written down in the Middle Ages.
The vivid graphic features the giant Bendigeidfran (Blessed Crow), the maiden Blodeuwedd, the goddess Rhiannon and the stag slain by the ghost of Lord of Annwn (the Otherworld).
He told BBC Radio Wales' Good Morning Wales programme: "With myths over the ages they change so much from passing on, everyone adds their own little bit and embellishes their own little bit of the story.
"I'd kind of like people to make up their own stories from the image and what they see really."
Gavin Johnson, who has been working with Mr Fowler on this project, said the concept for the mural first started in 2012.
"The first stage we toured Wales, me and Pete went to six Cadw sites, and we delivered writing workshops with professionals and emerging writers who helped us imagine the myths," he said.
"Alongside this Pete will create six murals, which is the third part of this project, and they'll be installed at the Cade sites in the spring.
"It's definitely been an uphill challenge."
Five of the 20 panels were erected on Wednesday but the project was hampered by the weather. The remainder will be completed in the new year.