Newport kickboxer jailed for attempted murder of girlfriend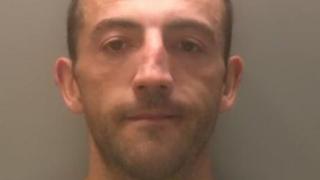 A kickboxer who tried to murder his girlfriend at his flat in Newport has been jailed for life.
Dennis Ross, 33, beat his partner Sian Davies over three days in July and strangled her, leaving her in a coma.
One police officer told Cardiff Crown Court the attack at Ross's flat in Rogerstone was the worst he had seen. Miss Davies' injuries were so severe she had to learn to walk again.
Ross was told he must serve a minimum of seven years and 140 days.
The court heard the alarm was raised when Ross's grandmother went to visit him in his flat and saw Miss Davies lying motionless on the bed.
Prosecutor Michael Jones said: "Police received a 999 call from a mobile phone from a female caller in a fragile and whispered voice who told police: 'He's going to kill me'
"It was the grandmother of Ross - she was terrified for both Sian and herself."
Warning - graphic photo of Ms Davies's injuries below
Police forced their way into the flat and found Miss Davies - who had met Ross just weeks earlier - with multiple injuries, lying in a foetal position on the bed.
The officers said she could not open her eyes or speak, was struggling to breathe and the flat was heavily bloodstained.
The court heard a paramedic "couldn't determine the race or ethnicity of the woman because of the bruising on her body".
Neighbours had reported hearing repeated banging and thuds over a number of days.
It was later discovered Miss Davies had broken ribs, kidney damage and her eye sight had been affected. She was placed in intensive care and stayed in hospital for two months.
She told the court in a statement she "wakes up shaking and flinching" and she cannot go out alone.
The court heard he had already been jailed for beating another former girlfriend and breaking her jaw and was still on licence for that attack.
The Recorder of Cardiff, Judge Eleri Rees, told Ross: "You are a highly trained kickboxer - your fists and feet are the equivalent to the use of a weapon.
"It is impossible to predict when it will be safe to release you into the community."
Following sentencing, Millie Davies, of the Crown Prosecution Service, said: "The defendant assaulted his partner over a weekend, which continued even when she was unconscious. Most of the investigation was carried out whilst the victim was in a coma.
"We hope that the conclusion of the case will bring Miss Davies some comfort."
Det Con Elaine Newbury, of Gwent Police, said: "Ross put his victim through a sustained and prolonged attack which resulted in significant and serious physical injuries, whilst having a profound impact on the victim's emotional well-being. He has shown no remorse for this."