Funeral held for oldest surviving Welsh Guard Eric Jones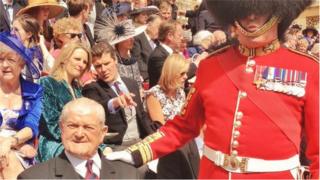 The funeral for the man who was the oldest surviving Welsh Guard has been held, attended by about 150 people.
Eric Jones died on 10 December on his 103rd birthday.
Rev Charlotte Rushton told St Tydfil's Parish Church, Merthyr Tydfil, his family wanted to thank those who gave cards and gifts on his birthday and were "deeply saddened dad passed away before he could enjoy them".
Mr Jones's coffin was carried by retired Welsh Guards.
He made the news in 2015 when he met Prince Charles at a Windsor Castle event and told him he hoped the then-pregnant Duchess of Cambridge would have a baby girl.
As part of the service, there was the sounding of the Last Post.
Mr Jones "lived life to the fullest and was full of fun," Rev Ruston said.
"He was very well known and very well liked member of the community" and was "proud to wear the red tunic".
The congregation was told Mr Jones joined the Welsh Guards in 1934, something he described as "the biggest move I ever made - marvellous".
He was a guard at the Duke of Kent's wedding and served at Windsor Castle and later worked as a police officer in Merthyr but was recalled by the Welsh Guards during World War Two to serve as a transport sergeant.