Jenna Miller death: Drivers jailed for fatal crash race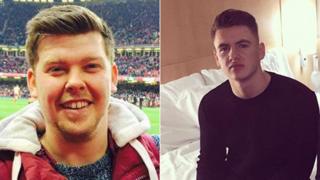 Two drivers whose 70mph race caused the death of a mother-of-two have been jailed.
Jenna Miller was hit by Jamie Oaten, 24, who was racing Joseph Fettah, 20, on a road in Barry, Vale of Glamorgan, in September 2016.
Mrs Miller, 30, died from her injuries following the crash.
Fettah, who denied causing her death, was sentenced to five years in a young offenders institution, while Oaten was jailed for three years nine months.
Judge Stephen Hopkins QC said Mrs Miller was "an innocent young woman" who was killed by the "stupid, dangerous and self-indulgent actions" of two young drivers.
He said: "What prompted either of you to drive as you did other than testosterone-fuelled competitiveness is unclear."
Mrs Miller was turning right out of a garage on Cardiff Road, Barry, when her Mazda 6 was hit by Oaten's Audi A5.
She was cut from her car and taken to hospital, where she died.
Oaten, from Barry, admitted causing death by dangerous driving following the incident, but security worker Fettah denied knowing him, or trying to race him after pulling up at traffic lights behind his vehicle.
Fettah admitted lying to police about the speed he was going after the lights turned green.
He was found guilty by a jury at Cardiff Crown Court in November.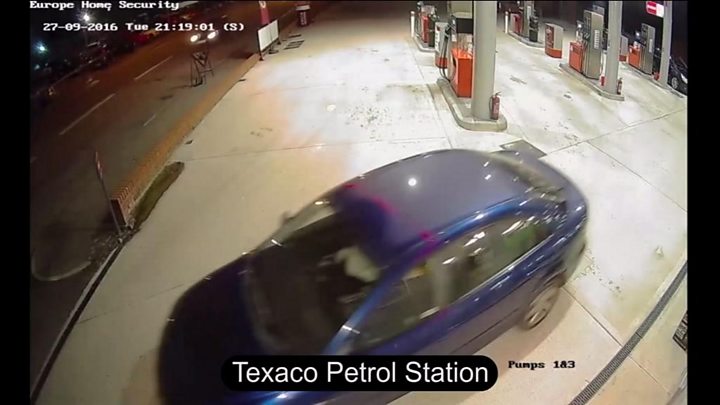 During the trial the jury heard how Fettah did not speak to police after the crash - and instead got a friend to pick him up and go to a party.
Following the sentencing, Mrs Miller's family said they were still devastated by her death and her young children would have to grow up without their mum.
"She was an entirely innocent victim and clearly in the wrong place at the wrong time when her path crossed with these two 'boy racers' whose selfish, immature and arrogant behaviour in deciding to race their cars on a public road resulted in such devastation," the statement said.
"It's heart breaking that two young boys, through no fault of their own, now have to grow up without the mum they idolised.
"We are totally committed to bringing the boys up so that they develop into decent young men who Jenna would have been proud of."
Following the sentencing, Janine Davies of the Crown Prosecution Service said: "Our thoughts are with the family of Jenna Miller. They have shown great strength throughout the court process and we thank them for their support," she said.
Barristers representing both men said that they had shown genuine remorse and neither had previous convictions.
Fettah was disqualified from driving for seven-and-a-half years while Oaten was disqualified for seven years.