Bridgend smoke warning after scrap vehicle blaze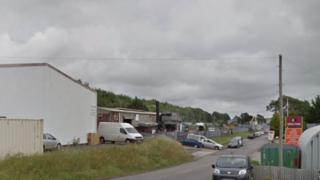 Scrap vehicles on fire in Bridgend have led to a smoke warning being issued to residents in the area.
The blaze broke out at Bridgend Industrial Estate on Princes Way at about 16:00 GMT on Wednesday, with five fire engines sent.
South Wales Fire and Rescue Tweeted: "Please be aware of smoke in the area - take extra care driving and keep windows and doors shut."
Crews were dealing with the fire Wednesday evening.