Thieves target Hirwaun church on Christmas Day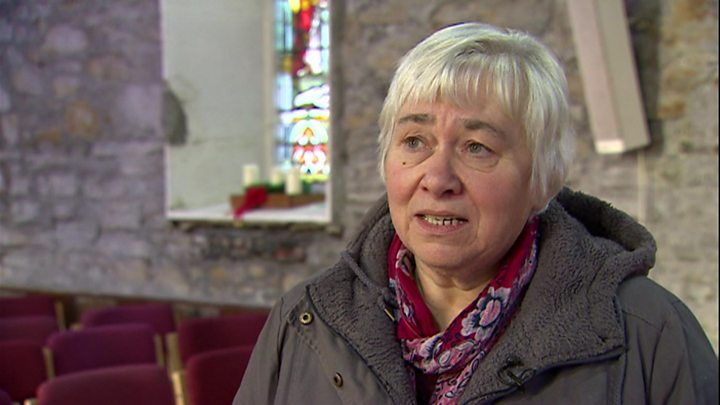 Thieves who stole £20,000 of electrical equipment and silverware from a church on Christmas Day may have hid inside the building after Midnight Mass.
Items dating back 100 years were among those taken from St Lleurwgs Church, in Hirwaun, Rhondda Cynon Taff.
Church warden Cerys Hartley said members believed those responsible could have struck after hiding in an upstairs balcony.
She said the community had been shocked by the thefts.
But she added it had united members.
The Christmas Day service had to be held in the adjacent church hall after the thefts which saw a PA system, projector laptops and religious silver and brassware, including a crucifix commemorating World War One, stolen.
Candlesticks, a church bell and a goblet and plate used for Holy Communion were also taken.
Mrs Hartley said members believed the thieves may have attended the midnight service, which finished about 01:00 GMT on 25 December, and hid on the upstairs balcony as everyone left to go home.
It appears they then used a cable as a rope to climb down to the floor hall below.
She was the last to leave after locking up the building with her husband and said, with hindsight, she was glad they did not check upstairs, as they could have inadvertently confronted those responsible.
Mrs Hartley said: "Knowing now what happened afterwards, I am quite relieved that I didn't go up to check anything. We don't know what the story might have been if we had."
But despite the shock and sadness of the thefts, she said church members had been touched by the warm words of supporters.
"It's really brought home to us what it means to the community now, they really care about this building, and so to us, there's a positive," she added.
Reverend Ceirion Rees echoed her words, adding: "Even though it is a horrible thing, it has been unifying."