Panto proposal at Cardiff's New Theatre: 'Oh yes she did'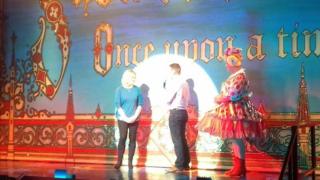 It wasn't just Snow White who got her fairytale ending at Cardiff's New Theatre, as a specially scripted performance saw a surprise proposal.
Jason Young popped the question to Sue Beer during a matinee performance.
Panto dame Mike Doyle set the scene by calling the couple out from the audience, and Mr Young got down on one knee.
"I thought it was a practical joke", said Ms Beer, who accepted the proposal.
"I'm still shaking and haven't been able to stop smiling," she said.
Mr Young, 46, from Newport and Ms Beer, 45, from Rhiwbina, Cardiff, fell in love after meeting online in February this year.
Mr Young said he did not want "a traditional romantic proposal" where it would just be the two of them, but wanted the whole family to be there.
The couple's five children, Mr Young's parents and Ms Beer's mother were all in the audience.
"I approached the New Theatre in November to see if I could arrange something, and the production team were amazing," said Mr Young.
"Mike Doyle usually asks during the show if there are any birthdays, but on Thursday he called us out to come on stage instead.
"Sue had no idea, she thought we were plucked out randomly to be taken the mick out of.
"He asked us what we had for Christmas before handing me the microphone."
Mr Young, who admitted to shedding a few tears, said the "whole place erupted" when Ms Beer said yes, and the cast were all waiting to congratulate them when they went backstage.
Ms Beer said he is a notorious practical joker and thought she was "going to be made to do something stupid, like sing on stage".
"We couldn't be happier," she said, "but it still hasn't sunk in".
"We've had so many people congratulating us on social media, it's so overwhelming."
The couple plan to marry "sooner rather than later".