End of New Year's Day Severn Bridges toll rise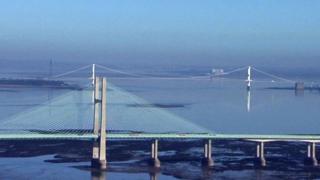 The toll on the two Severn crossings will not be increased on New Year's Day for the first time in many years.
The charge is usually increased in line with annual inflation on 1 January but the toll will actually be reduced for the first time since 1966 on 8 January.
The cut is when the two bridges between south Wales and England will return to public ownership from Severn River Crossing PLC next week.
The tolls will be scrapped by the UK government before 31 December.
It has been estimated by the Welsh Government that the ultimate abolition of the charges - paid on entry to Wales - will benefit the Welsh economy by about £100m a year.
Charges will initially be reduced next Monday as the fee for car drivers drops from £6.70 to £5.60.
The first Severn Bridge between Chepstow and Aust was opened in 1966 before the Second Severn crossing, three miles down the Bristol Channel, opened in 1996.
About 25 million journeys a year are made across the two bridges and daily users of the crossing could save about £1,400 a year when the toll is removed.
"The major level of tolls on the Severn Crossings have represented a drag and barrier to Wales' economic growth for over half a century," said Secretary of State for Wales Alun Cairns.
"In less than a year we will see the biggest economic stimulus for south Wales and the valleys for decades."
Mr Cairns has invited local partners and businesses from south east Wales and the south west of England to attend the first cross-border business summit in Newport on 22 January to discuss strengthening links between the two economies ahead of the toll removal.
"The tolls' removal will cement the ties between the economies and communities of south Wales and south west England, creating a growth corridor spanning from Cardiff through Newport to Bristol," added Mr Cairns.