Cardiff man with cerebral palsy refused Uber ride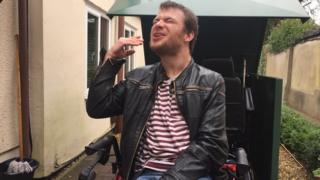 A disabled man refused an Uber ride home from a Cardiff party on New Year's Eve has said he is convinced it was because of his cerebral palsy.
Ted Shiress, who walks with a frame, said the taxi driver drove off after being asked to move closer so he could get in the car.
The 30-year-old said his friend was then charged a £4 cancellation fee for not using the ride.
Uber has since apologised to Mr Shiress.
The Equality Act 2010 means it is illegal for a private hire vehicle to refuse to take a person with disabilities, unless they have a medical exemption from the licensing authority.
Uber's website says it has a "zero tolerance policy towards discrimination of any kind".
Mr Shiress, who lives on his own in the Roath area of Cardiff, said his friend had booked the Uber taxi using the app to take him home from the house party in the Pontcanna area of the city. But it refused to take him - which he is convinced was because of his disability.
"I would not say we were perfectly sober, but we were not that messy, we were just a tiny bit drunk, as anyone would be at about 03:00 GMT on New Year's Eve," said Mr Shiress, who uses a mobility scooter but was using his frame as it was late and raining.
"He was quite far down the road, and my mate went to him to ask if he could reverse a bit [saying] my friend has walking difficulties. He did reverse, he just didn't stop.
"I just wanted to go home and go to sleep".
Mr Shiress, who moved to Roath from London in 2006 to study for a degree in language and communications, said he stayed in the city as it was so accessible for disabled people.
While he managed to get another Uber cab shortly after, Mr Shiress said he is certain the first driver drove off after seeing he was disabled, and that more training was needed.
"You get some really lovely taxi drivers, but once in a while you get some not very nice ones," he added.
"Maybe they are a bit scared of the unknown. I am quite used to things like this happening, you get a bit jaded at it all. I'm not angry but it shouldn't be like that."
Mr Shiress complained to Uber on Twitter and the firm apologised but asked him to send more details about the incident.
BBC Wales has asked Uber to comment.