Cardiff Uni work sees epilepsy drug treat osteoarthritis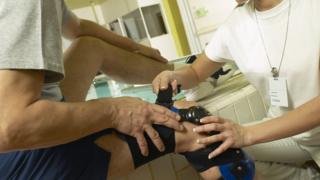 Using epileptic seizure-preventing drugs could stop almost a million cases of osteoarthritis in the UK each year, Cardiff University research has found.
A single injection was found to prevent injury-induced osteoarthritis, that could potentially save the NHS half a billion pounds a year.
Osteoarthritis is the most common joint disease, causing pain and disability.
While it affects about 8.5 million people in the UK, about one million of these cases are caused by injury.
Researchers found more than 50% of patients who suffer joint injuries develop osteoarthritis, usually five to 15 years later.
By that time, the only treatment is to relieve symptoms of pain and inflammation using painkillers such as paracetamol.
The Cardiff University research repurposed anticonvulsants, which are a group of pharmacological agents used for epileptic seizures.
While they were designed to treat the central nervous system, researchers found a single injection following injury could relieve pain and swelling more than any other approved therapy.
Dr Deborah Mason and Dr Cleo Bonnet also noted vastly reduced inflammation and bone cartilage destruction that leads to osteoarthritis.
"As these figures (numbers of osteoarthritis sufferers) rise with our aging population and put further strain on our health system, there is an urgent need to find preventative treatments," Dr Mason said.
The work, part-funded by Arthritis Research UK and the Medical Research Council, is at the preclinical stage and has not yet been tested on humans.
But the fact the drugs have been used for epilepsy has left researchers confident they could be safely and quickly repurposed for osteoarthritis treatment.
Cardiff University previously developed a smart patch that could detect the early onset of osteoarthritis in patients' knees.