Grandma Nia Ceidiog, 63, is first-time bodybuilder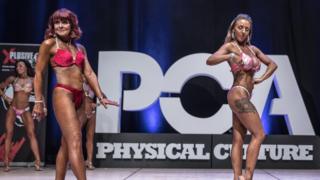 A grandmother has overcome "horrible health problems" in her quest to become one of the world's oldest first-time bodybuilders.
Nia Ceidiog, from Cardiff, took up the sport in autumn 2016 "just to see how far a 63 year-old body could go".
An intense training regime saw her drop from a size 12 to a size 6 to compete at the Physical Culture Association's Xplosive Ape Grand Prix competition.
But health problems along the way almost made her give up on her dream.
The TV producer, who wrote the original 1980s Fireman Sam children's TV series, first embarked on a change in lifestyle when she went from a size 16 to a size 12 for her son's wedding eight years ago.
She swapped a diet of wine and ready meals for a meat-free and dairy-free one and took up yoga.
Last year, she decided to take it a step further by trying something different, and embarked on a 3,000-a-day calorie intake to help her achieve her bodybuilding goal.
But it came at a price as the high protein levels saw her develop a form of psoriasis, which led to the build-up of a painful fungus under her nails caused by her skin cells over-producing abnormally.
She later changed her diet, which helped her recover and sparked a "new enthusiasm" to carry on.
Months later, spray-tanned and wearing just a crystal-decorated bikini and heels, she saw herself lining up against people 20 years younger in the competition's over 35s class, where she was one of only three people out of 300 to be awarded a medal.
"My family were there to cheer me on and I got to see an amazing world and working within that world was a very pleasing and humbling experience," she said.
"I consider myself as a winner as it was very important to me that I reached that stage and I have grown so much through the process.
"The whole thing has taken 10 years off me - the way I look, the way I think and the confidence it has given me."
She added: "What an amazing journey it turned out to be - transformational physically, spiritually and intellectually."
And the journey may not be over as Ms Ceidiog is thinking of competing again in the coming year.
Watch more on her story on S4C's Dim Ond Rhif, (Only a Number) due to be screened at 21:30 GMT on Tuesday, 9 January.