Blaenau Gwent dog fouling and litter complaints halve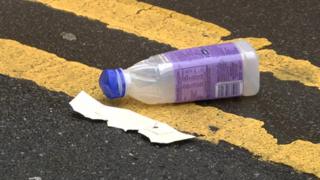 Complaints about litter and dog fouling in Blaenau Gwent have almost halved over the last five years, a report has said.
Blaenau Gwent council has been using a private firm to issue fines in a bid to rid its image of having some of the dirtiest streets in Wales - as outlined in Keep Wales Tidy surveys.
More than 8,600 fixed penalty notices have been issued, mostly for littering.
The council also made a profit for the first time in 2016-17.
Its environment committee will meet on Thursday to discuss the results.
"For the last five years Blaenau Gwent has been identified as having some of the dirtiest streets in Wales by annual surveys carried out by Keep Wales Tidy," the report said.
"Street cleanliness is consistently considered to be a priority for both councillors and constituents."
It added: "The fixed penalty enforcement initiative continues to provide a neutral cost method of ensuring anti-social behaviour associated with offences that degrade street cleanliness can be tackled in a proactive manner.
"Blaenau Gwent is benefiting from an innovative, cost effective environmental enforcement service.
"The initiative reinforces the authority's zero-tolerance approach to these environmental offences."
Complaints about street cleanliness in 2016-17 is 46% lower than 2012-13, after the enforcement began, while complaints over dog fouling alone is down 70% on the same period.