Roof blown off Barry house by Storm Eleanor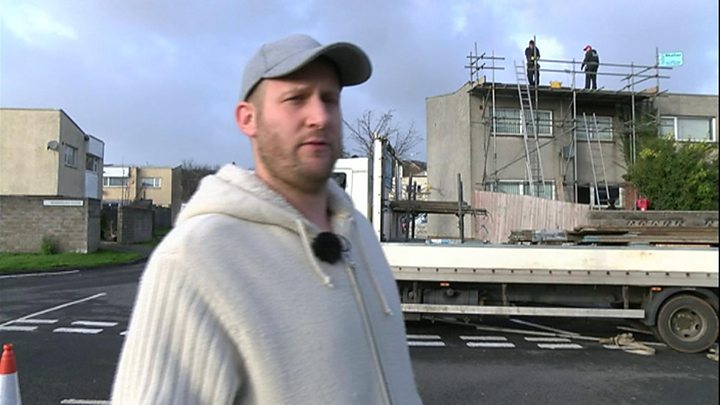 A family is facing weeks away from home after their roof was blown off early on Wednesday during Storm Eleanor.
Matthew Venables, partner Natasha and children Louis, one, and Theo, eight weeks, had to leave the house in the Vale of Glamorgan at 02:00 GMT.
The roof was lifted in one piece and thrown on to a nearby car park before landing on a car at Gibbonsdown.
Nicola Bethel, Matthew's sister, said it was a "disaster" for the family who do not have insurance.
"The only things left are the wooden floors and the beams," she told BBC's Cymru Fyw Welsh language website.
Gusts of up to 79mph (130km/h) hit Wales overnight, causing disruption around Wales including homes left without power.
Nicola said: "My father has been up to the roof this morning to fix as much as he can, but no part of the flat roof is left.
"My brother heard a massive sound, before spotting the roof of a house resting on a nearby car.
"He told himself then 'I hope that's not mine', but when he went out, he saw the damage to the roof," she said.
"The police and fire brigade came by and told them they need to move out because the electricity, the water and the gas had to be switched off."
The family has now moved in with Natasha's relatives but, since they have no insurance, Nicola said that they do not yet know when they can return home.
An online appeal to raise funds for the family has been launched.
Nicola said that her brother's family had had a difficult time recently, as Theo has been ill with bronchiolitis and their boiler broke around Christmas.
"This is the last thing they needed," she said.