Cardiff plans for 350 student flats set to be approved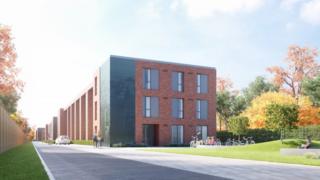 Plans for 350 new student flats in Cardiff look set to be approved.
Mederco wants to build the studio flats in five three-storey blocks - plus a community centre and boxing club - on land off Mynachdy Road, Mynachdy.
Residents and politicians have objected to what they call a "gross overdevelopment" of the former coal storage depot.
But the plans have been recommended for approval by Cardiff planners, subject to conditions and a legal agreement.
Mederco's original plans for 361 apartments have been scaled down and resubmitted, but objectors say it is still too many.
Cardiff North MP Anna McMorrin said in her response to the plans: "This is the third planning application for the redevelopment of the former coal yard in 10 years.
"The previous application of 249 student units approved in 2012, was met with anger and hostility of residents who felt alienated in their own community.
"The incremental increase in units in the plan has inevitably exacerbated this, hence the unanimous opposition to the development which has been expressed at both meetings and echoed on the doorstep."
Ms McMorrin added: "It is very difficult to agree that student accommodation is much needed for the area when dozens of schemes for student accommodation are in the pipeline for the city centre."
Cardiff North AM Julie Morgan urged the planning committee to "undertake a preliminary site visit so that they can gain a full insight into the impact this proposed development will have on the local community".
Gabalfa councillors Rhys Taylor and Ashley Wood, and Llandaff North councillors Jennifer Burke-Davies and Dilwar Ali, have also objected.
Recommending the planning committee approve the plans on Wednesday, the relevant council report says the proposal will redevelop a brown field site and provide a significant amount of purpose-built student housing.
It says the site has recently been subject to fly-tipping and anti-social behaviour.
The proposed community centre and boxing club will also be "a highly positive addition to the area", it adds.