Severn Bridge tolls cut for first time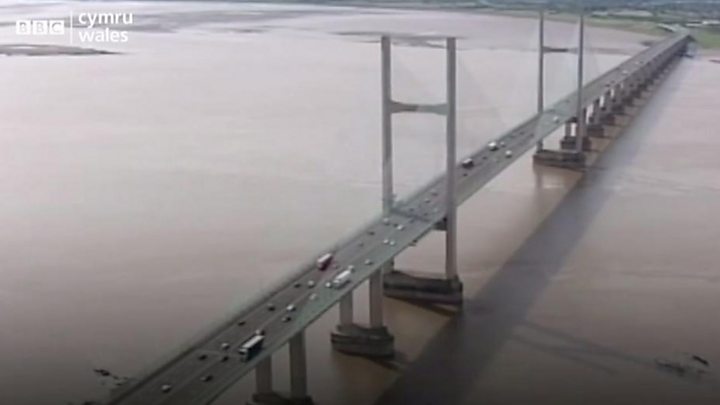 Tolls on the two Severn crossings have been reduced but calls are being made for them to be scrapped immediately rather than at the end of the year.
The bridges went into public ownership at midnight, prompting the price cut as VAT was removed by the UK government.
The tolls will be removed by the end of 2018 but First Minister Carwyn Jones said that should happen straight away.
The UK government said fees would help phase out tolling and pay towards maintenance.
Charges for private cars travelling into south Wales from England will drop to £5.60 from £6.70 as Highways England take charge of the M4 and M48 bridges - the first time the tolls have been reduced.
Severn River Crossing PLC, whose tolling revenue in 2017 was between £8m and £10m a month, handed the running of both bridges to the Department for Transport.
The Conservative-run UK government said it will abolish the Severn tolls altogether by the end of 2018 but Mr Jones called for the date to be moved forward.
He tweeted: "Welcome news for businesses & commuters - although the #severnbridge tolls should be scrapped now, not at the end of the year."
Another Welsh Labour politician accused ministers of "highway robbery" by continuing the tolls now they were publicly owned.
"Wales has been subjected to highway robbery by tolling from when the first bridge opened in 1966," said Newport West MP Paul Flynn.
"We have been uniquely punished. This month we should be ending the tolls altogether - to continue them is a rip off.
"It is entirely unjustified. The UK government are very reluctant to give up a cash cow."
Ken Skates, Wales' economy and transport secretary, said: "We, like users on both sides of the bridge, would question why these tolls are not scrapped from the point of returning to public ownership."
It has been estimated by the Welsh Government that the ultimate abolition of the charges - paid on entry to Wales - will benefit the Welsh economy by about £100m a year.
'Finally'
Welsh Secretary Alun Cairns said removing the tolls would make journeys cheaper for commuters and tourists, as well as creating "exciting opportunities for businesses and investors looking to make their mark in Wales".
"This will boost Welsh employment and establish lasting relationships between the economies and communities of south Wales and south west England, creating the most natural growth corridor spanning from Cardiff through Newport to Bristol," he added.
The Queen opened the £8m first bridge in 1966 while the second bridge, built three miles downstream across the Severn Estuary, was financed by a private consortium set up in 1992.
The newest bridge, opened in 1996, cost £332m to construct but the eventual repayments including debt repayments, interest and tax are more than £1.3bn.
"The bridges are paid for, there is no debt and the Severn crossings are part of the road system - and should be free," added Mr Flynn.
Annual maintenance and operational costs average £15m between both bridges and the UK government said the continuation of tolling will help pay for their upkeep.
It said in a statement: "Over the period between the transfer to public ownership on 8 January and the abolition of tolling, Highways England expect to collect sufficient revenue to operate the crossing, phase out tolling, and recover costs that taxpayers historically incurred in the maintenance of these bridges.
"Tolls will then be abolished by the end of 2018."
About 25 million journeys a year are made across the two bridges and daily users of the crossings could save about £1,400 a year once the toll has been removed.
'Staff uncertainty'
Severn River Crossing's 180 staff have been transferred to become Highways England employees overnight but with tolls set to be scrapped, 115 jobs are at risk.
"It is policy of all major political parties to remove tolls and if you don't have tolls you don't need toll collectors," said departing Severn River Crossing chief executive Phil Smith.
"We've had programmes running to up-skill those individuals and it is up to Highways England to carry that forward and deal with them as sympathetically as possible."
Severn River Crossing PLC spent £228m on maintenance of the bridges over the past 25 years and the 60-strong team expected their work to continue.
"There is a lot of experience in our team and Highways England know we are the best people to maintain the crossings," said engineering operations manager Rick Shaw.
"Their first priority is the travelling public and these crossings have to be maintained and kept open. As far as we're concerned, it is business as usual."
Influx from Bristol
Meanwhile, estate agents in Monmouthshire said they have seen an 80% rise in homebuyers from the Bristol area since about May last year.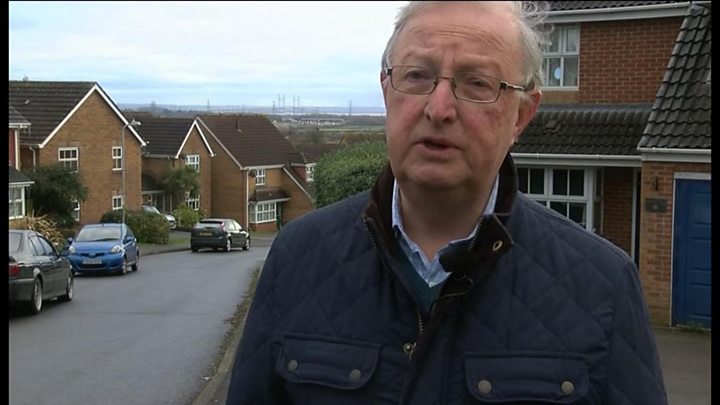 "We're finding a lot of young families are coming over, a few professional people are coming over now and are quite happy to travel from Wales over to Bristol - it's only 11 miles as the crow flies... it's quite a comfortable drive," said Charles Heaven, who owns Crown estate agents.
"They are usually making a substantial sum of money from the properties in Bristol."
But he added: "We're finding that the traffic is increasing... I think there will be some problems with the roads and maybe schools and surgeries."