Clydach Vale walker Trevor Ward turns 104 on birthday weekend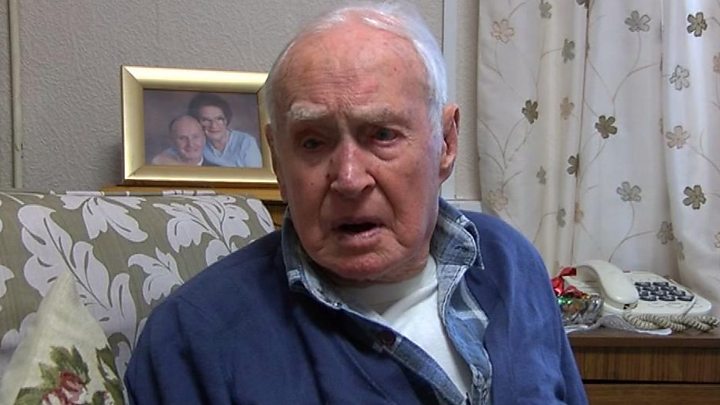 A great-great-grandfather from the Rhondda who turns 104 this weekend says the secret to a long life is daily hill walks and a "drop of whisky".
Trevor Ward from Clydach Vale also loves dancing on a Saturday night and a couple of pints and Bingo on a Tuesday.
Born in January 1914, just before the outbreak of the First World War, Trevor lives alone without assistance and does not take any medication.
He walks every day with his friend but takes a break on Sunday.
"I go for a walk every day up to the lake. I'll go to the top of the road and meet my butty [friend] and we'll talk about everything and everyone and then [go] back down," he said.
"I think the walking is keeping me healthy. Now you've got youngsters sat in the chair all day every day watching the TV.
"I'll be out walking every day as long as the weather is dry."
A former miner born in Llwynypia, Mr Ward began work at the Cambrian Colliery as a teenager and spent 38 years at the mine before ending his career at Porth Textiles.
He was married to Bessie for 75 years and is father to Shirley 81, Kay, 76, and Robert 66, with many grandchildren, great-grandchildren and great-great-grandchildren.
"There's more money around these days, you can't give a child a penny these days," he added.
"They'd tell you where to stick it! A penny today wouldn't even buy them an ice cream. There's more money about than there was when I was a child.
"I wasn't from a poor family, but we weren't rich. My father always worked. We had a pay packet coming in every week. I worked all my life too.
"I lost the sight in one eye in work, when a blast pipe burst and a stone went in my eye and I was off for 15 months. I lost a finger too when I was 19 years old and then I was out for six weeks. But I've always worked."