Main Caerphilly road shut as part of £5m improvement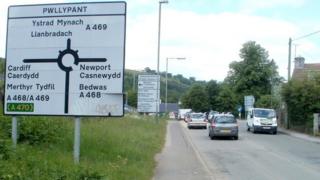 One of the main roads into Caerphilly will be closed this weekend as £5m improvement works continue.
Part of Pontygwindy Road near Pwll-y-Pant roundabout will shut between 08:00 GMT on Saturday until 18:00 on Sunday - the first of three weekend closures.
Drivers have endured congestion "chaos" since the works began in October, which cost the local economy almost £400,000.
Caerphilly council said traffic will be diverted past Crossways retail park.
Businesses have expressed "gravest concerns" about the impact of the scheme on trade and the area's MP and AM have told the council of their "very real concern".
Traffic data showed in December there had been three times more traffic jams at the A469/A468 junction since the roadworks started in October.
The council has reinstalled single-lane approaches to the roundabout for a short time - and have given drivers advice to keep queues down.
The weekend work, which will see a section closed between Pontygwindy Road, the Pwll-y-Pant roundabout and the Catnic Industrial Estate, is to help reopen two lanes to the roundabout quicker.
The council thanked motorists for their "patience" and said "every effort" will be made to finish the works in a shorter time period.