Adam Vaughan: Body found in Ecuador search for kayaker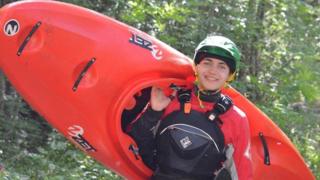 A body has been found in the search for a kayak instructor from Cardiff who went missing following flash floods in Ecuador.
Former Cardiff University student Adam Vaughan, 22, was one of five men involved in a kayaking accident on 20 January.
They all disappeared after getting into difficulty on the Abanico river in the east of the country.
Two of the men from Ireland died, while an American and Ecuadorian were found.
But the search continued for Mr Vaughan, originally from Newbury, Berkshire.
Firefighters said a body, thought to be Mr Vaughan's, was found on a beach near the village of San Luis Del Acho, at the weekend.
The body has not yet been formally identified.
The bodies of Irishmen David Higgins, 26, from Kerry, and Alex McGourty, 19, from Sligo, were previously recovered following the incident.
A Foreign Office spokesman said: "We are assisting the family of a British man who has been reported missing in Ecuador, and are in contact with the Ecuadorian authorities."