Traditional Welsh Caerphilly cheese wins EU protected status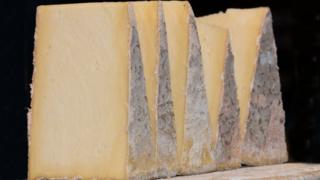 Wales' only native cheese has joined the ranks of Welsh lamb, Anglesey sea salt and Pembrokeshire early potatoes in being awarded a special status.
The name Traditional Welsh Caerphilly is protected from imitation, misuse and fraud under the European Protected Geographical Indication (PGI).
Gwynfor and Thelma Adams started making the cheese in 1987 when milk quotas were introduced.
Thirty years on it is still made with the same original recipe.
The EU protected food name scheme covers regional and traditional foods whose authenticity and origin can be guaranteed.
It recognises foods which are produced, processed and prepared in a specific region using recognised expertise.
There are currently 84 protected food names in the UK.
Mr and Mrs Adams' son, Carwyn runs the family business, Caws Cenarth based in Carmarthenshire.
Welcoming the status, he said: "It's a guarantee of its quality and authenticity, and the skill and passion involved in the making".