Llantwit Major is first town in Wales to join refill scheme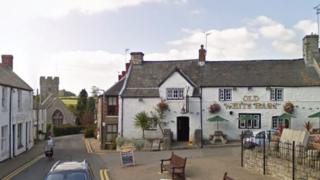 In a bid to cut plastic waste, a Vale of Glamorgan town is to become the first in Wales to sign up to a free water refill point scheme.
Llantwit Major is signing up to Refill, which encourages people to refill water bottles at shops, cafes and businesses.
The scheme began in Bristol in 2015 and has 15 official schemes and 1,600 refill stations across the UK.
Refill said it had received enquiries about schemes for Gwynedd, Cardiff, Ceredigion, Pembrokeshire and Anglesey.
In January, Water UK pledged to offer free water refill points in every major city and town in England by 2021.
Llantwit Major's town clerk Ruth Quinn said the town council would pay the one-off £250 fee so it could register its refill points on the app and use the logo, adding it was one of many ways the town was working to reduce single-use plastic waste.
Jacquie Jenkins, owner of the Hair Studio in the town said she was inspired to do something after watching Blue Planet II and her son reported seeing excessive plastic waste on a trip to Bali.
She said: "I went on Facebook and put 'how can we as businesses reduce plastic waste? Any ideas please'."
Another business owner suggested Refill so she did some research before contacting the town council who backed the idea.
"We've got a fantastic little town. As long as someone stands forward people are willing to come along," she said.
Natalie Fee, who founded not for profit organisation City to Sea which launched Refill, said: "It's been fantastic to see such a surge of interest in local communities wanting to get involved in running their own Refill schemes... I'm a big fan of Llantwit Major and it's lovely community and beaches. I can't wait to see Refill take off there".
Water firm Severn Trent, which serves a large area of mid Wales, said it supported the campaign and would be rolling it out across its region in the near future.
Dwr Cymru said it was speaking to partners and organisations about how it could raise awareness of the environmental damage caused by single use plastics and micro-plastics and how refilling using tap water can be made the norm in Wales.