Customer's 'pain' after chilli powder thrown at restaurant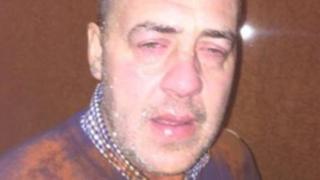 A man has told a court how he was left "doubled up in pain" after having chilli powder thrown in his eyes after complaining at an Indian restaurant.
Chef Kamrul Islam is accused of causing actual bodily harm to David Evans at the Prince of Bengal in Tonypandy, Rhondda Cynon Taff, on 21 January 2017.
The jury at Merthyr Crown Court heard there is no dispute Mr Islam threw the chilli powder in Mr Evans' eyes but he claims he was acting in self defence.
Mr Islam, 47, denies the charge.
The court heard father-of-two Mr Evans had gone out for a "quiet meal" with his wife to the restaurant which they had visited about six times previously.
"We ate the starter - it wasn't quite right but we didn't complain," he said.
"I ordered chicken tandoori, my wife ordered a chicken dish as well. We started eating our food.
"It tasted rubbery and like paraffin. It was shiny. I go to lots of Indian restaurants and I have never tasted food like that before."
The pair complained but Mr Islam is said to have shouted at them, saying "you only want a free meal, I've met you people before".
Pipe-fitter Mr Evans told the jury that a waiter and two chefs had apologised to him before the owner came over and started swearing at them.
"I said we are willing to pay for the meal but I'm not paying for the chicken. His language, I've never heard anything like it in my life," he said.
Mr Evans followed Mr Islam to the kitchen of the restaurant asking for an apology but the chef grabbed a handful of chilli powder and threw it into his eyes.
"He marched off. He turned around and that's when he threw the chilli powder in my eyes," he said.
The court heard Mr Evans "doubled up in pain" and his reaction was "immediate and obvious."
He was rushed to hospital where a saline drip and water was used to flush out his eyes.
Mr Islam claims he threw the powder in self defence after Mr Evans "formed a fist" as if to punch him.
He told police Mr Evans pursued him "with a view to violence" and said he had been polite to the couple.
The trial continues.