Cardiff man's eight-month cancer treatment wait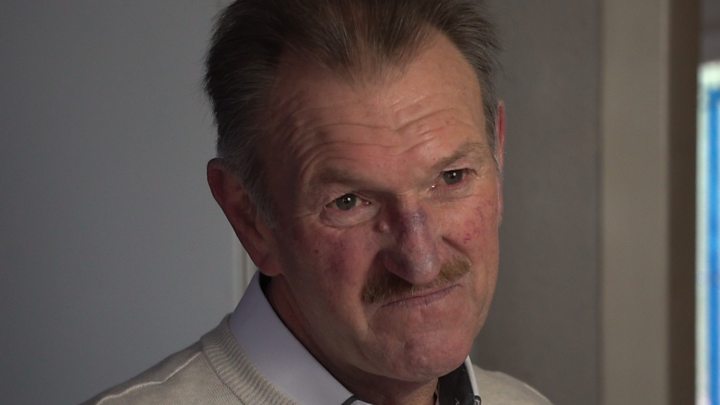 A grandfather waited eight months for cancer treatment only to be told his condition had become terminal.
Ronny Andrews, 64, had a tumour on his liver discovered in January 2017, but it was not until September he finally had chemotherapy.
This was four times longer than the 62 day treatment target set by the Welsh Government and by then it was too late.
Cardiff and Vale University Health Board said this cancer had been difficult to diagnose.
Mr Andrews told BBC Wales Live as soon as he heard he had cancer, he wanted to start treatment.
"I had no fear of having the cancer, I thought 'well let's get it out'," he said.
"But as time went past I thought well this is just growing and growing and not coming out."
Mr Andrews' initial biopsy was delayed because he was not told to stop taking his blood thinning tablets, then when the biopsy was carried out, the tumour was missed - this meant it had to be repeated.
The delays added months to his wait for treatment.
"When they first saw it, it was 5cm," said Mr Andrews.
"But by the time they even bothered treating it, it was 15cm. Obviously it was very malignant and fast growing."
Then, last summer, he was told the cancer was terminal.
He had one treatment - a TACE - in which chemotherapy was injected into the tumour. Unfortunately it had little impact and he was given between three and six months to live.
"For the last six months it's been 'what if?' What if they had treated me earlier? What if I had been sent to a different place of course - but that's all a bit late now," he said.
"And we're just waiting basically, waiting for it to happen."
The health board said it apologised to Mr Andrews for breakdowns in communication, but insisted all of the investigations were "clinically necessary" to decide the appropriate diagnosis and treatment.
A spokesman said: "A more straightforward diagnosis may only take a couple of weeks but a cancer type that is difficult to diagnose may unfortunately take months.
"The health board's performance against the Welsh Government's 62-day standard has improved from 70% in 2015-16 to 89% this year despite treating more patients each year."
Latest monthly figures showed 90% of patients started treatment within 62 days - lower than the Welsh Government target of 95%, which has not been reached since 2008.
Health Secretary Vaughan Gething said he was looking at changing the cancer treatment targets to better reflect the patient experience.
He said: "In cancer we have a time target, but that target doesn't tell you about survivorship, about the outcome people have, about the experience they have.
"And what I'm interested in is a broader conversation with the public and people working in the NHS. So it's about having a set of measures that are intelligent, that help to drive the right sort of behaviour to improve experience and outcomes."
Dr Tom Crosby, from the Wales Cancer Network, said more funding was needed to improve the time from diagnosis to treatment.
He said: "Whilst we know that patient experience is generally very good in the cancer service in Wales due to hard work of staff, we know survival is not as good as it could be.
"We think at least part of that is related to the time they spend in the healthcare system after they're suspected of having cancer, before they start treatment."
For Mr Andrews any changes will be too late.
He said: "The scans are now that it has obviously grown too big and it is will start affecting the rest of my organs. And we will see when, when is the other thing now. It's what we're waiting for, when.
"That's what we do now. We wait. And continue to live our life of course. You got to. No choice."