Merthyr Tydfil becomes last council to ban sky lanterns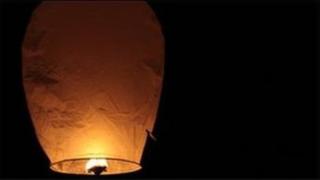 Releasing sky lanterns from council-owned land in Merthyr Tydfil has been banned after it became Wales' last authority to introduce the measure.
A report said lanterns carried "a significant fire risk" and could harm or kill animals if they ate them.
In December, Flintshire became the penultimate council to ban them with Merthyr following suit on Wednesday.
Both sky lanterns and balloons are covered by the ban, which comes into effect immediately.
Cabinet Member councillor Howard Barrett said: "One of our environmental well-being objectives is that communities protect, enhance and promote our natural environment and countryside.
"The introduction of this ban most certainly supports this."
RSPCA Cymru and Keep Wales Tidy welcomed the fact all councils have now brought in the measure.