Cardiff GP attacked his children and raped his wife, court told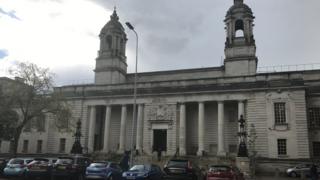 A Cardiff GP attacked his three children before raping his wife in front of their son, a court has heard.
The man, who cannot be named, was arrested in September 2016 after his ex-wife alleged he had raped her.
Cardiff Crown Court heard he also stopped his wife's parents from visiting their home and said he would kill her if she left.
He denies controlling or coercive behaviour, two counts of cruelty to a person under 16, and rape.
Opening the case, prosecutor Nicholas Gareth Jones said he often attacked and verbally abused his children and wife before raping her.
He said: "He pushed her onto the bed and pinned her down by the throat, this in their son's bedroom with him present.
"He regularly lost his temper with his two boys and used to hit them, punch and pinch them, and kick them."
He said the man would also encourage his children to call their mother a "bitch", adding: "He told her 'it's my house and my rules'".
The trial continues.