'Horror movie' attack by Taffs Well man on 'step gran'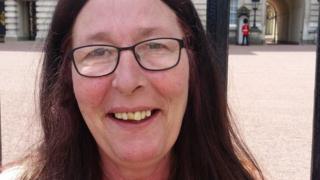 A man with mental health issues cut the throat of the woman who raised him with a hunting knife after believing she was a "white witch".
Jonathan Griffiths, 23, killed Janice Griffiths, 59, at their home in Taff's Well, Rhondda Cynon Taff last June.
Griffiths was ordered to remain in a mental health hospital after pleading guilty to her manslaughter.
Judge Eleri Rees said it was "tragic" she had died at the hands of someone she had raised.
Cardiff Crown Court heard how the defendant attacked Ms Griffiths - also known as Rose - at their home on 12 June 2017.
Carpet fitter Dennis Jones, who was praised by the judge and police, tried to pull him away from her, but she died from her injuries in hospital.
He later said the attack felt like he was in the "middle of a horror movie".
Neighbour Yvonne Woodward, who witnessed the incident and has since been diagnosed with post-traumatic stress disorder, said: "Nothing prepared me for the horror."
The court was told Griffiths was a paranoid schizophrenic who had "extremely poor" mental health for about 10 years.
'Shocking and tragic'
Judge Rees said he had killed someone who was effectively his step-grandmother and had been nurturing and supportive of him throughout his life.
She said: "It is shocking and tragic that she should die at the hands of someone she did so much for."
Griffiths was found to have low culpability because the violence was attributable to acute psychotic symptoms.
The judge made a hospital order for Griffiths, who is in Ashworth Hospital in Liverpool that will remain in force indefinitely.
Following the verdict Ms Griffiths' family thanked Mr Jones and Ms Woodward and the emergency service staff who "fought tirelessly" to save her.
"If there is a heaven and God, our Janice will be an angel looking down on us all, knowing hell is only for the bad ones on this earth. Rest in peace our Rose," they said in a statement.