Sainsbury's supermarket sign falls on woman in Swansea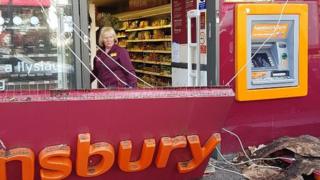 A supermarket has apologised after a shop sign fell on top of a woman outside a store in Swansea.
The incident happened outside the Sainsbury's on Uplands Crescent on Tuesday.
Witness Noah Redfern said the sign was about eight metres long, adding: "It skimmed her head but I think she will be ok, she's had a lucky escape".
Sainsbury's said it had temporarily closed the store.
Swansea council said: "We are aware of the incident and will be looking into it further."