Blaenau Gwent Gypsy and traveller site planned for Nantyglo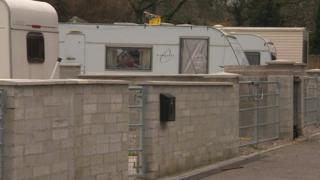 A new Gypsy and traveller site for 32 families is set to be created in Blaenau Gwent because of demand.
For more than 200 years, there has been a settlement at Cwmcrachen, Nantyglo, with 20 pitches and a four-pitch private site in Blaina.
However, demand means a further eight pitches are needed.
Councillors will be recommended on Thursday to approve demolishing the Nantyglo site and move families to a new settlement at Lower Cwmcrachen.
On one piece of land, there would be 24 pitches, a site office, community facility and play area with eight further pitches on an adjoining site used by Lewis Skips that was repossessed by the council.
In a survey, 90% of residents said they were happy in their current accommodation but all said the new site could meet their needs.
It is hoped a Welsh Government grant will fund the move, with the new site opening by 2022.