Gas company apologises to 90-year-old woman for problems
By Aled Scourfield
BBC News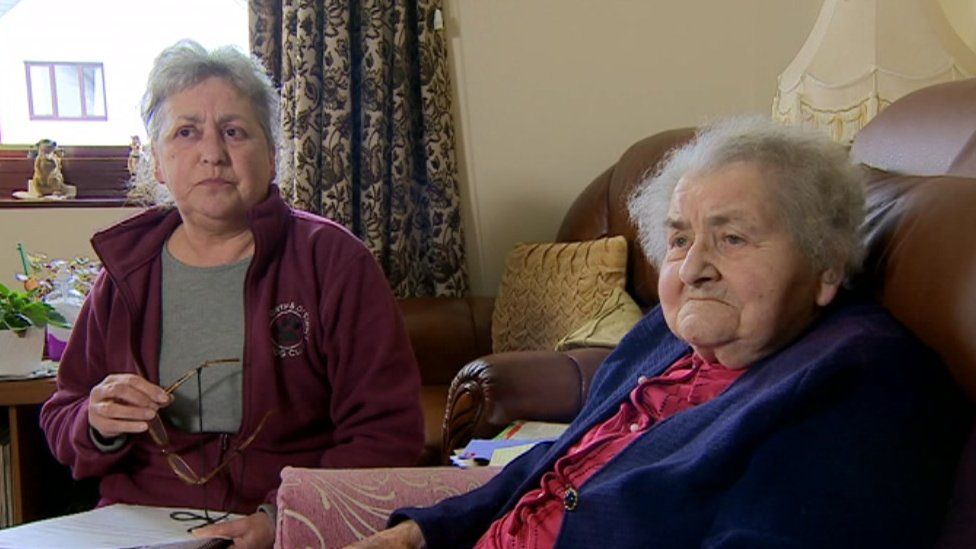 A gas company has apologised to a 90-year-old woman who complained after problems switching suppliers.
Flogas provided Betty Wood with LPG gas, a common fuel for people in rural areas unable to use the national grid.
It has since delivered 400 litres of fuel to her as a goodwill gesture.
Mrs Wood, of Blaenffos, Pembrokeshire, wanted to get her supply from local firm, West Wales Gas, after the cost started to rise last year over and above bills received by her neighbours.
At the end of 2017, she received a letter from Flogas increasing her bill to 68p a litre, plus VAT, while she was quoted around 39p a litre by West Wales Gas.
Flogas maintain Mrs Wood started a two-year contract last year but she has rejected this assertion.
Neighbour and friend Dawn Harvey, who has been negotiating for Mrs Wood, said it was an "incredibly hard process" trying to switch providers.
"Betty was paying well over 70 pence a litre with VAT. Locals were being charged between 47 and 56 pence," said Ms Harvey.
She said she had asked Flogas to send proof of contract, but that they had failed to do so.
In a statement, a spokesman for Flogas apologised for the "confusion and stress".
"We have reviewed our verbal recording system and can confirm that Mrs Wood agreed to sign up to a two year contract with us in March 2017," he said.
"Since this matter was brought to our attention, we have arranged for 400 litres of gas to be delivered to Mrs Wood, which she will receive free of charge."
He said the company was working to switch over her account to West Wales Gas as "a matter of priority".
Mrs Wood has cancelled her payments to Flogas.