Yosemite park rock fall: Climber died protecting wife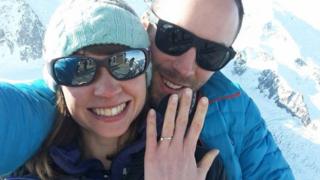 A climber from Cardiff who sacrificed himself to save his wife from a rock fall died "in a loving and selfless act", an inquest has heard.
Andrew Foster, 32, originally from Cheltenham, died when rocks fell from El Capitan in Yosemite National Park, California, on 27 September.
Recording a conclusion of accidental death, coroner Caroline Saunders said he used "his own body as a shield".
His wife Lucy, 28, was seriously injured but survived.
Gloucester Coroner's Court was told Mr Foster ran into danger after the couple were caught in a rock fall at one of the park's best-known landmarks.
The inquest heard boulders "the size of vehicles" fell from the vertical rock formation which stands at more that 3,000ft (900m).
Mr Foster spotted the danger and shouted for his wife to run but when she fell to the ground, he ran towards the tumbling rocks to shield her.
The couple had been on a week-long camping trip at the park at the time of the rock fall.
A report from the National Park Service, which is responsible for Yosemite, described Mrs Foster telling witnesses afterwards: "He saved me."
The Fosters were caught in the first rock fall shortly before 14:00 local time. Mr Foster was pronounced dead at 16:00.
A post-mortem examination in the US concluded Mr Foster died from cranio-cerebral injuries, but no details about Mrs Foster's injuries were disclosed.
The inquest heard Mr Foster's injuries were "unsurvivable".
The pair, found with climbing equipment, are believed to have been scouting out the ascent from a trail when a sheet of granite plummeted from a height of 656ft (200m).
After his death, Mr Foster's family said: "They loved each other dearly and, while our loss is indescribable, we are so proud of our brave boy in saving Lucy; he will always be our hero."
Mr Foster proposed to his wife in the Alps in 2015 and the couple married in 2016.
He went to Cleeve School in Bishop's Cleeve, Gloucestershire, before going to Cardiff University in 2003 to study engineering.
In 2006, he began working for the Cardiff-based outdoor activity shop Up and Under before joining the international company Patagonia.
Mrs Foster is originally from Staffordshire and went to school in Market Drayton, Shropshire.