Warning after measles outbreak declared in south Wales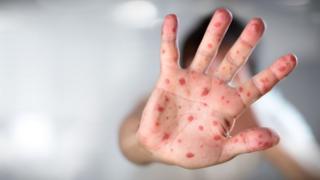 Young adults and teenagers are being urged to ensure they have two doses of the MMR vaccine, following a measles outbreak.
Six people are confirmed as having measles in Cardiff, Newport and Blaenau Gwent.
Public Health Wales confirmed two further possible cases were under investigation.
Parents are also urged to make sure their children are fully protected.
The first few cases are thought to have been exposed to the infectious illness in Cardiff city centre in early February, Public Health Wales said.
It is working with health boards and councils in south-east Wales to contact people exposed to measles cases and to arrange vaccinations.
Dr Gwen Lowe, consultant in communicable disease control for Public Health Wales, said: "Measles is highly infectious and the only way to prevent large outbreaks is through vaccination.
"As this outbreak has shown, even being in the same proximity as a stranger in the first stages of measles can result in infection."
Symptoms include a fever, cough, runny nose, conjunctivitis and a distinctive red rash.