Eisteddfod campsite to be set up at Pontcanna Fields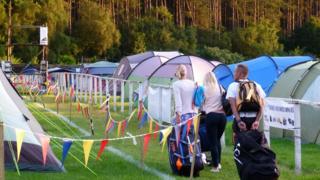 A campsite for up to 700 caravans will be set up in Cardiff for the National Eisteddfod this summer.
Up to 50 acres of Pontcanna Fields will be used for visitors to the event - which returns to Cardiff for the first time in a decade.
The area will be closed to the public for 10 days after the first caravans arrive on 2 August.
About 1,500 tents were pitched in the area for the Champions League final in May 2017.
The National Eisteddfod - a week-long celebration of music, literature and poetry - takes place in Cardiff Bay.
Preparations at Pontcanna Fields will begin two weeks before the caravans arrive, and there will be a week-long clean-up operation after it closes.
However, some people fear the campsite will leave the area in a flood-prone, muddy state - as they claim it was left after the last National Eisteddfod in Cardiff in 2008.
Campaign group Bute Parks Alliance wrote on its Facebook page: "Everybody knows that running heavy caravans and cars on soft grass or turf causes damage, especially if the grass is rain sodden.
"We've all seen the TV images of the aftermath of Eisteddfodau where it rained - heavy tractors dragging skidding caravans and cars out of deep mud - the end result is a quagmire and is not pretty.
"What other major European city would dare to countenance such a madcap scheme?"
The National Eisteddfod's chief executive Elfed Roberts said: "We will do everything within our power to ensure that the land is looked after and returned to public use in a good condition."
Cardiff council also reassured residents they will not see a repeat of what happened in 2008.
A spokesman said it was aware of "historical challenges" after Pontcanna Fields was used in 2008.
However, he stressed the Maes - the main festival site - was also there that year and attracted 157,000 people in total.
This time, it will just be people in the 700 caravans at Pontcanna Fields with the event at Cardiff Bay.
The spokesman said this "fundamentally changes the proposition" but said the council was looking at all concerns raised.