Man paralysed in New Zealand fall back home in Caldicot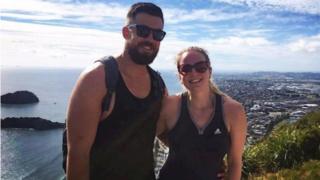 A man who was paralysed after falling from a ladder while working in New Zealand has flown home to Wales, three months after his accident.
In November, Matthew Williamson, from Caldicot, Monmouthshire, hit his head and fell four metres from a ladder, paralysing him from the chest down.
The 30-year-old had rehabilitation in New Zealand until he could fly home.
Posting a message on Instagram he said: "I would love to thank everyone that showed their support."
He returned home with his girlfriend Justine Bennett, 26, after enough money was raised to pay for his flights.
Severed spinal chord
Writing on Instagram, he said: "Justine and I would love to thank everyone that showed their support and kind donations that helped us get back to the UK.
"The flight was difficult and gave many challenges and emotions that I wasn't ready for. We made it back in great condition ready to take on the new challenges that lie ahead.
"We can't thank you all enough, I personally will never know how to repay your kindness. I truly have the best friends and family and girlfriend anyone could wish for."
Mr Williamson was employed as an industrial abseiler in New Zealand, which involved skilled rope technicians operating in hard-to-reach locations.
While climbing a ladder at work, he hit his head on a hatch and fell, sustaining two fractures to his spine and a severed spinal cord.
More than £7,000 was raised on a Crowdfunding page, allowing him to fly home.