Wales rugby star Sam Warburton gets OBE at Buckingham Palace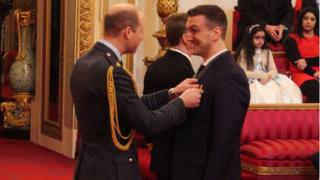 Lions captain Sam Warburton collected his OBE from Buckingham Palace and said it was nice to be wearing more than just a towel when talking to Prince William, for a change.
The Duke of Cambridge is a Welsh Rugby Union patron and a regular fixture at Wales matches.
Wales flanker Warburton, from Cardiff, was named in the 2018 New Year Honours.
The 29-year-old described collecting his gong as a "very surreal, very lovely experience".
Warburton has won 74 caps for Wales and, at the age of 22, became the team's second-youngest captain after Gareth Edwards.
He has led Wales on a record 48 occasions and captained the British and Irish Lions on two tours, winning the first in Australia in 2013 and tying the second in New Zealand in 2017.
After collecting his OBE on Tuesday, Warburton said Prince William was a "very big supporter of Welsh rugby".
He added: "Normally, we're dressed in a towel when we chat to him. So it's nice to be fully clothed and actually have a conversation for a change."