Anthony Joshua: Fight night rail service criticised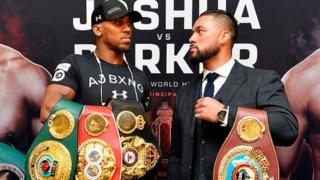 Rail firms have been criticised for not running services to accommodate fans attending the Anthony Joshua fight at the Principality Stadium in Cardiff.
A sell-out crowd of 65,000 is expected at Saturday's heavyweight title bout.
The main event is due to start at 22:30 BST but the last train from Cardiff to London is an hour before it begins.
Welsh Tory leader Andrew RT Davies said the lack of planning was "ridiculous" but the rail firms say they did not get enough notice and offered other dates.
Great Western Railways said they were operating a normal south Wales to London weekend timetable the night of Joshua's unification fight against New Zealander Joseph Parker.
The company said it could not put on any additional services to Paddington due to the line between Bristol Parkway and Swindon being shut for "essential upgrade work" on Saturday night.
"We should be doing all we can to show off our city to the world - and put on extra trains - not less," Mr Davies, the South Wales Central AM, said.
The final train from Cardiff to Bristol on Saturday is 22:47 while the last one to Newport is 23:30.
Both fighters arrived in Cardiff on Wednesday, appearing before crowds of fans at St David's Hall.
Rail operators meet with Cardiff council and stadium bosses every month but confirmation for the fight in January came too late for the timetable to be addressed, the rail firms said, adding that they did suggest alternative dates for the fight where they could add extra services.
"This essential work requires engineers and specialist equipment and has involved 18 months of planning," a joint statement from GWR, Arriva Trains Wales and Network Rail said.
"It has been widely advertised to passengers and agreed with train operators and stakeholders.
"Cancelling the work and rebooking it at another time would also mean increased costs to the taxpayer."
Transport problems arose after the last Joshua fight in the city which coincided with the Severn Tunnel being closed.
Some spectators complained of having to wait more than five hours to get a taxi.
"It's a complete farce for engineering works to take place on the same night - even if we are assured the disruption won't be as bad as last time," Mr Davies said.