Gypsy and traveller transit site call for Newport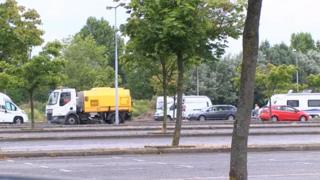 A transit site for Gypsy and traveller families is needed in Newport after £64,000 was spent cleaning up an unauthorised site, the Welsh Government has said.
Travellers moved on to government-owned land at Tatton Road, with costs coming after they left in April 2017.
While Newport council has identified a residential site, the Welsh Government also wants it to provide a transit site for families passing through.
The council has been asked to comment.
A traveller family was given permission by the Welsh Government to occupy land at Tatton Road while Newport council found a residential site to accommodate them in the long-term.
But in the meantime, another family who did not have permission to live there, also moved on to the land.
The Welsh Government said it believed they were responsible for the rubbish left, while incidents of fly tipping also followed.
In total, £64,405 was spent clearing and securing the site, which included six security guards being present between April and October 2017, a Freedom of Information request has revealed.
Plans were approved in 2016 to provide a permanent site for Gypsy and traveller families with links to Newport, with up to 35 pitches planned for land at Hartridge Farm Road in Ringland.
In 2017, evidence of a settlement dating back to the Iron Age and Roman periods was discovered there by archaeologists, but construction of the site has now begun.
The Welsh Government is providing funding for the development, but it still wants more provision in the city.
A spokesman said it is encouraging Newport council "to identify a transit site and apply for Welsh Government gypsy and traveller sites capital grant funding before 2021 to ensure nomadic families can access appropriate transit facilities rather than resort to encampments."
A 2016 council assessment found 24 unauthorised encampments had been recorded in Newport in the three previous years.
They were often in the same location and involved the same families, with five at the city's International Sports Village.
Over the same period, the council's environmental health department received 28 enquiries about encampments - 18 short-term, in locations such as the Megabowl site at Newport Retail Park.
As well as a permanent site, the assessment identified the need for a transit site with seven pitches and a capacity for 14 caravans.