'Largest' plastics haul in Cardiff river bank clean-up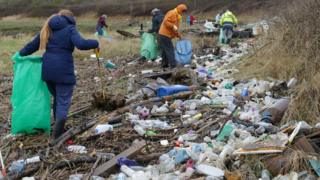 More than 150 bags were filled with plastic after being picked up by 50 volunteers from a river bank in Cardiff.
The Cardiff Rivers Group also gathered 25 bags of mixed recycling and 60 bags of general rubbish at the River Rhymney, off Lamby Way.
Car wheels, gas bottles, fridges, engine oil containers and footballs were also recovered at the weekend.
It took the group less than two hours to gather it all.
Louise Tambini, one of the founding members of Cardiff Rivers Group, said it was the biggest haul since the group was founded in 2009.
"It was quite a short stretch and the most we've gathered from one place," she said.
"It's been accumulating for a long time and it's out of the way, not somewhere you walk past.
"But because there were so many people, they just went at it."
Other stories you might be interested in: