Cardiff's Tramshed wins bid for extended opening hours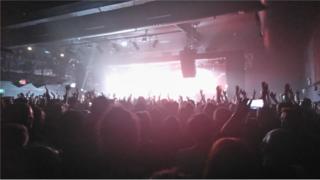 A Cardiff music venue has won its bid to open longer for up to 20 "special" music events.
The move followed police concerns it could lead to crime and disorder outside the Tramshed in Grangetown.
South Wales Police showed CCTV footage of disturbances to the city council's licensing sub-committee.
However, the Tramshed's operators successfully argued plans for DJ music nights ending at 03:00 would not cause problems.
"These will be different events," said Paddy Whurr for the venue.
"You might have 1,000 people through the door but you won't have 1,000 people arriving at the same time and leaving at the same time."
'Males urinating'
The proposals had faced objections from both local residents and the police.
"We have seen the nuisance that has been caused by the vast amount of people leaving at that time," Tim Davies, from South Wales Police, told the meeting in Cardiff earlier.
He said those living nearby would be "disturbed by noise, people shouting, taxis beeping" and "males urinating".
However, the council rejected the concerns and agreed the Clare Road venue could sell alcohol until 02:30 - staying open until 03:00 - if police were given 21 days' notice.
The Grade II-listed building, once used to house trams and trolley buses, underwent a £4m renovation into a 40-seat cinema, performance venue and cafe-bar in 2015.