Cardiff bus lane fines hit 250,000 drivers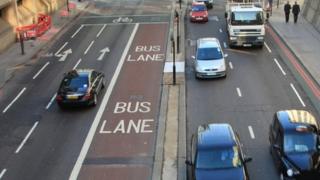 More than 250,000 motorists were hit with penalty charges for driving in Cardiff's bus lanes between 2015-17, according to the RAC.
It puts the Welsh capital in fourth place in the UK for the highest number of tickets issued for the offences - behind London, Manchester and Glasgow.
But the annual number of fines in the city has dropped by almost 21%, since being introduced in 2015.
Cardiff council said enforcement helped stop roads "getting snarled up".
But the RAC's Simon Williams said the fact there were more than one million fines issued in the UK each year suggested there was a problem.
"Bus lanes have a vital role to play in ensuring the reliability of public transport as they help to keep our urban areas moving," he said.
"But the sheer quantity of fines suggests something is awry and we don't believe the vast majority are knowingly breaking the rules.
"A lot of this is down to improving signage. Every city driver will be familiar with the blue bus lane sign, but on city centre streets with a lot of signage clutter it can be very easy to miss the specific times of operation."
CARDIFF BUS LANE FACTS:
267,713
Fines issued 2015-17
£18.7m net worth at £70 each

11 miles of bus lanes

14 enforcement cameras
BBC
However, Cardiff has bucked the trend to record a drop in penalties, where around the rest of the UK the number of bus lane fines issued has increased by about 5%.
In 2015, there were 102,800 charge notices sent out in Cardiff, but it dropped to 83,300 in 2016, and fell again to 81,600 last year.
A council official said: "Around 90,000 commuters come into Cardiff every day for work and effective enforcement of moving traffic offences helps to stop our road network getting snarled up.
"We are open about where our cameras are sited because we want to change behaviour."
The council said money raised from the penalty notices was ring-fenced and spent on improving parking and public transport services in the city.