Ernie the spaniel: Newport woman's fight to keep Cardiff stray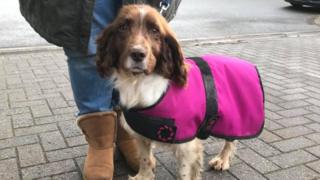 A woman who found a stray dog has launched a fight to keep him.
Nicole Abraham found the spaniel, who she has since named Ernie, looking like "skin and bones" crouched on Wentloog Avenue in Cardiff on Saturday and drove him home to Newport.
She contacted a Cardiff dog warden on Tuesday who said he should not have been taken out of the city.
Cardiff council said it "strongly advised" Mrs Abraham to bring the dog to Cardiff Dogs Home.
Recalling the moment she found Ernie, Mrs Abraham said: "He was in such state. He was filthy, stinking.
"I honestly didn't think 'I wonder if there's a dog home close to here'.
"I thought I was doing the right thing."
However, a council spokesman said she had "only notified Cardiff Dogs Home that they had the dog some 72 hours after finding it and in this period set up a Just Giving page to raise funds to look after the animal".
He added she was "impeding" checks to see if the owner could be identified and if no owner could be found she would have the opportunity to adopt the dog if "deemed suitable".
Mrs Abraham said she took Ernie to a vet on Saturday who said he was severely underweight but had no major health issues.
She said she reported finding him using an online Newport council form on Sunday.
Her husband Ian added: "All we want is what's best for Ernie - he has a loving home here and that has to be better than a concrete kennel."
The council said any person who finds a stray dog can only keep it "upon receipt of confirmation from an authorised officer from the council that they can do so".
It added: "Such confirmation has not been given in this case."
Its website states anyone who finds a lost dog is "legally obliged to contact Cardiff Dogs Home to report it".