Swimmer rape trial: Woman 'found sobbing and whispering'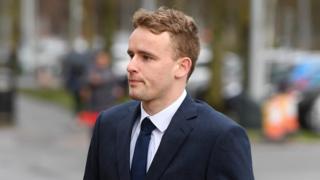 A young woman was found in tears and "whispering to herself" after she was allegedly raped by a top swimmer, a court has heard.
Otto Putland is accused of jumping into bed with the student and raping her after she had consensual sex with his friend, Team GB swimmer Ieuan Lloyd.
Mr Putland, 24, who swam for Wales at the Commonwealth Games, denies rape.
A Cardiff Crown Court jury heard how the woman's friend arrived in a taxi and found her partially undressed.
The 19-year old woman had texted her, saying: "Help, I think something might happen."
"She was crying, her face was a mess, she looked completely different to what she had before," the friend told the court.
"She wasn't wearing any shoes, tights or pants, and her skirt had ridden up.
"I held my arms out to her and started crying and took her into the taxi. I tried to pull her skirt down but she didn't really notice it was up.
"She still didn't seem to realise that her skirt was so high up, she had her hands covering her face, she was sobbing, crying and whispering to herself.
The witness said the young woman kept saying to herself that the roommate, meaning Mr Putland, came in "and she tried to say 'no', and just kept saying 'no, no, no'."
She said her friend continued to cry throughout the night as they stayed together.
The court heard earlier this week how the alleged victim met Mr Lloyd at a club in Cardiff and went back to his house in Adamsdown on 14 July 2015.
The court was told that when Mr Putland began making sexual advances, the woman tried to push him away, saying "What are you doing? You can't pass me around".
The trial continues.