Ernie the rescue dog allowed to stay at Newport home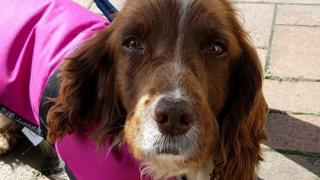 A woman who found a dog on the side of a Cardiff road has been allowed to keep him after he was taken to a dogs home.
Nicole Abraham picked up the spaniel, since named Ernie, and took him to Newport but was told he should not have been taken out of the city.
But Ernie will now be allowed to stay with Mrs Abraham and her husband Ian after he was taken to Cardiff Dogs Home for health and legal checks.
Cardiff council thanked the couple for bringing the dog in for checks.
Mrs Abraham found Ernie on Wentloog Avenue in Cardiff "filthy and stinking" and decided to take him back to her home in Newport.
She said she took Ernie to a vet on Saturday who said he was severely underweight but had no major health issues and reported finding him using an online Newport council form on Sunday.
But Cardiff council said any person who finds a stray dog can only keep it "upon receipt of confirmation from an authorised officer from the council that they can do so".
However, now Ernie's chip has been scanned and his health checks and paperwork have been sorted by the authority, he can remain in his new home.