Man jailed for trying to stab Newport police officer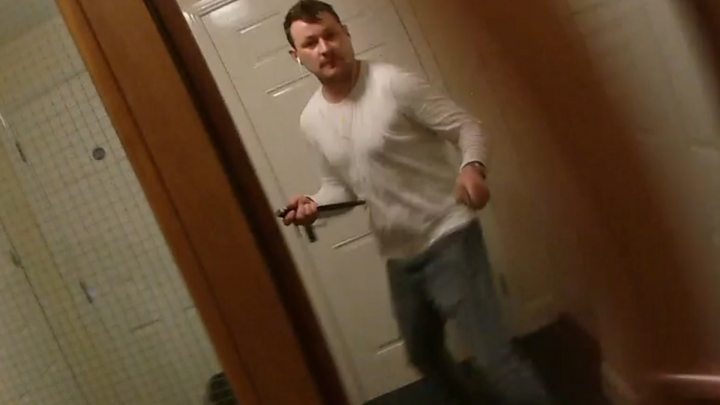 A man having a "psychotic episode" who tried to stab a police officer with two kitchen knives has been jailed.
Tony Buttigieg was sentenced to four years for attacking PC Rhydian Jones at his flat in Newport.
Swansea Crown Court heard the Gwent Police officer "genuinely feared for his life".
The 37-year-old admitted attempted grievous bodily harm for attacking PC Jones after he had been Tasered.
PC Jones was not injured because he was wearing a stab vest, but in a victim impact statement, he described it as "the most frightening episode of his life".
Judge Paul Thomas QC said PC Jones was "subjected to the fear and trauma" of a knife attack and he "could not ignore" the psychological impact on the officer and his family.
In the months leading up to the attack, the estate agent lost his job and had split up with his girlfriend.
Officers were called to a block of flats in Caerleon, Newport, on 2 October 2017 after a neighbour reported Buttigieg acting erratically and banging on their door.
She said he was "frantic" and believed someone was trying to kill him, saying there was a £1.5m bounty on his head.
The court heard he was under the influence of alcohol and drugs and the judge acknowledged medical evidence showing Buttigieg was experiencing a "psychotic episode".
When police arrived, Buttigieg was in a communal area of the flats, behind a glass door.
He did not believe the officers were genuine and said he thought they wanted to "get him", the court heard.
PC Jones and PC Gareth Marsh tried to calm Buttigieg, but bodycam footage showed him getting increasingly agitated.
He was holding two large kitchen knives and, when officers threatened him with a Taser if he did not drop them, he burst through the door.
Footage showed Buttigieg lunging at PC Jones's torso with the knives before being subdued in a matter of seconds.
Judge Thomas acknowledged this was "a one-off episode" and added: "I genuinely believe you are horrified at what you see on the bodycam footage and are genuinely remorseful."
Det Ch Insp Nick Wilkie said: "Luckily the outcome wasn't fatal but nonetheless it was traumatic for all those involved.
"The body worn video footage is particularly harrowing to watch and reminds us of the risks officers face every day, when officers are simply carrying out their duty."