Albanian woman jailed for fraud over NHS kidney transplant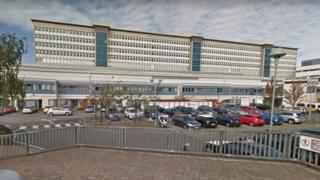 An Albanian woman has been jailed for fraud after she used a fake identity to have an NHS kidney transplant.
Cardiff Crown Court was told Fatmira Tafa, 31, had travelled across Europe in the back of a lorry to be with a man she met online.
Two years later, Tafa suffered kidney problems and received a transplant which cost the NHS £72,469.
She was jailed for 14 months after admitting fraud and possessing an identity card with improper intentions.
The court heard Tafa assumed the identity of a real Greek woman and started to get benefits as an EU citizen living in the UK.
In October 2016 she had an NHS kidney transplant at the University Hospital of Wales in Cardiff but had not been legally entitled to the treatment as an Albanian national without leave to live in the UK.
Her true identity came to light in a follow-up appointment in March 2017 when she broke down in front of a nurse.
'A heavy heart'
Prosecutor Steven Donoghue said: "Another doctor came over and spoke to her and she went on to say her boyfriend made her do it but he had since been deported.
"She said when she arrived she thought she was coming for romance reasons and she believed the boyfriend would have legal documents for her."
Andrew Davies, defending, said: "She was facing her own death and if she had not made the decision to have surgery, who knows where she'd be now."
Tafa has since made a formal application to the Home Office for asylum which is pending.
Judge Jeremy Jenkins said: "I pass this sentence with a heavy heart and it gives me no pleasure to do so, but it is the appropriate sentence for your offending."
After the hearing, a spokesman for Cardiff and Vale University Health Board said: "Any fraud against the NHS deprives the service of valuable funds and persons will be prosecuted whenever appropriate."