Live WW2 'heirloom' bomb found in Bridgend house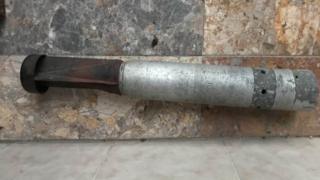 A bomb picked up on a beach during World War Two that was passed around a family in Bridgend for years has been detonated by the Army.
Soldier Gerwyn Miles found the device 70 years ago while serving in Japan and Asia and brought it home.
It was kept in his house before being taken to other family homes and even into a school for a show and tell.
But, after his daughter realised it was still live, it was safely detonated by a bomb disposal team.
Lynis Jones said she and her husband Lyn found her father's bomb in a garden shed while clearing out their home.
After the Army bomb disposal experts were called in on Monday night, it was taken away to a nearby rural area in Heol-y-Cyw to be disposed of.
"It was a huge shock when we realised that this device that had been in the family for years was actually a live bomb," said Mrs Jones.
She said experts told her the German B1E incendiary bomb, containing the highly flammable material thermite, looked live because it was in such a good condition.
"They took it out to the van and X-rayed it which confirmed that it was live. The decision was made to blow it up," she said.
"They said if it had not been moved around as much as it had they would have evacuated the whole street but because we had handled it so much the decision was made not to.
"If it had been lying in an attic for years and years, they definitely would have evacuated everyone in the area."
Her daughter Jessica said her grandfather would have found the story hilarious.
"I remember bringing it into school with grampa to show off to all my friends when I was seven," she added.
"My granddad must be laughing so hard at all of this."
South Wales Police said it received a call about the bomb at about 20:00 BST on Monday.
"An ordnance disposal team inspected the device and disposed of it safely today on nearby common land," a spokesman added.