Newport Transporter Bridge revamp supported by Heritage Lottery Fund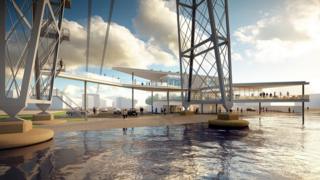 A 112-year-old transporter bridge is one step closer to getting a revamp, having received initial support from the Heritage Lottery Fund (HLF).
Newport City Council wants to restore the Grade I-listed bridge, which was built in 1906 and is one of only two working transporter bridges in the UK.
The HLF has awarded the authority £1m so they can progress plans to apply for further funding.
The council is bidding for nearly £10m in total from the HLF.
The bridge needs essential repair work to ensure it remains one of the city's most iconic structure and continues to attract visitors, the council said.
It is one of only five remaining operational transporter bridges worldwide, and is most complete original structure of all the remaining transporter bridges.
Councillor Debbie Harvey, cabinet member for culture and leisure at Newport City Council, said: "We have ambitious plans to make the visitor experience bigger and better.
"The bridge has dominated our skyline for more than 100 years and it is great to know we are a step closer to preserving it for another century."
The council now need to submit detailed proposals for consideration by the HLF, who will then make a final decision on whether to award the full funding of £9.7m.