Premier League promotion 'could be worth £75m' to Cardiff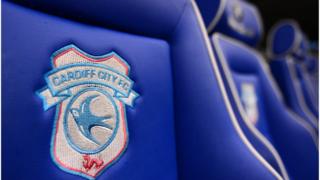 At least £75m could be pumped into the local economy following Cardiff City's promotion to the Premier League, a business expert has said.
Higher attendances at the Cardiff City Stadium is predicted to bring in more cash to businesses west of the city.
Spending would also rise as through weekend visits from more away supporters and match day spending.
Cardiff were promoted following their 0-0 home draw with Reading.
The Cardiff City Stadium has a capacity of 33,280, but the average attendance across the first 22 matches of the 2017-18 season was 19,604, meaning the area is likely to see more than 10,000 extra fans for each home game in the top flight.
Tom Cannon, Professor Emeritus and the University of Liverpool Management School, said: "The immediate and easiest impact of promotion itself is through revenues to the club - in season one, this is net around £100m from TV deals.
"Most goes to players, but they spend most locally with the only money leaking is transfers.
"For spending [locally] by visitors and extra local spend, add maybe £25m.
"The hardest to estimate is other income, which is probably £25-50m."
Welsh Secretary Alun Cairns said: "Membership to the exclusive Premier League brings with it some lucrative benefits to only to the club but also to Wales.
"Bringing Premier League football back to the Cardiff City Stadium will be a huge boost to the capital and it local economy with many local businesses set to benefit from the increased visitor number and trade coming to the city."
Ben Francis, Federation of Small Businesses Wales policy chairman, said: "When Swansea City AFC were promoted in 2011 local businesses benefitted in a number of ways, and I've heard several stories from Swansea businesses about how the increase of foot traffic on game days, as well as the highlighting of Swansea City AFC's brand has brought huge benefits to their business.
"Studies showed that Swansea City AFC's promotion brought £10.9m into the local economy and businesses reported that brand recognition for the city shot up.
"We'd hope to see local, independent businesses benefitting from Cardiff's promotion in similar ways and continuing to build on the many fantastic assets that our capital city has to offer."
Cardiff's draw with Reading was enough to clinch second spot in the Championship table after rivals Fulham were beaten by Birmingham.
It is the second time the Bluebirds have graced the Premier League - having spent one season there in 2013-14.