Newport nightclub incident: Third man charged by police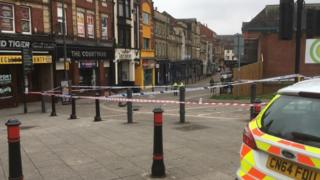 Police have charged a third man following an incident which saw four people injured outside a number of bars in Newport.
Officers were called to Cambrian Road at about 05:30 BST on 29 April.
Two men have previously appeared in court before being remanded in custody.
Detectives from Gwent Police said a 19-year-old has been charged with affray and he was due to appear before magistrates on Saturday morning.
Earlier this week, 18-year-old McCauley Cox, of Newport, appeared in court charged with attempted murder and dangerous driving.
Ben Thomas, 19, also from the city, has been charged with affray.
The identity of the third man has not yet been revealed.
Following the incident, two women were taken to hospital with serious injuries. One had a ruptured spleen and also had surgery on her ankle.
The other was treated for a fractured arm, nerve damage and chest burns.
Two others who were hurt have since been released from hospital.